logo design & branding.
Our good friend Maneesh has had a passion project in the works for years. As unfortunate as the coronavirus and the 2020 pandemic have been, it's not all negative. The most fortunate item we can take away from this coronavirus pandemic is the time we have acquired having to stay home. This has given us all time to focus more on ourselves as human beings as well as certain projects we stuck on the shelf pre-pandemic. 
logo exploration.
Pull all of our genius ideas from our brains and translate them to paper—sketching just makes life more simple right?—Compile all of this beautiful time-consuming passionate brainstorming and narrow it down into some ideas we can execute. From here we bring these logo ideas and options to the computer where we digitize them and present a first round to the client. This is the best way to get the logo design process started. From here we can start to narrow down the client's vision and massage it to perfection!
logo design.
After presenting multiple sketches and digitized logo options, we massaged this logo down to this super fun, funky, and awesome logo! This logo design needed to embrace the fun of this company within its branding and we feel this was executed tenfold. As this process can be tedious, it is very rewarding bringing a new brand to life. From layout to color to brand assets a brand and logo identity, when done correctly is really the foundation of your company. When beginning this process it is crucial to make sure you are working out any and all details to chisel out what will become the focal point of everything you do with your business. We know this will be successful not only because of the logo and branding but because of the people involved in creating it.
secondary logos.
For the secondary logo design options we wanted to combine the elements into a lockup that could be used to stamp or watermark images. There was also a need for a logo to specify different topics within the company that could be used to label specific elements. These pieces start to build the brand by not being too repetitive as well as adding some flexibility to place specific logos in specific locations where they fit best.
social media branding.
As this company will mainly hang out in the digital social media space we were able to have a ton of fun with the branding. Here are a couple of the explorations we took to match the brand to the logo design. We wanted the branding to pop in order to grab attention while scrolling through a social media feed. It's crucial when working in social media to be able to grab an individual's attention as attention is seldom today. Although this was not the final product these were very high contenders during the logo and brand design process.
final social media layout.
Here is the final layout for the social media branding which can be seen on the live account @tabletopbymaneesh. We took a different approach to the grid layout than your normal Instagram grid. We wanted it to stick out while scrolling through the feed as well as align with a seamless gradient when scrolling through the profile.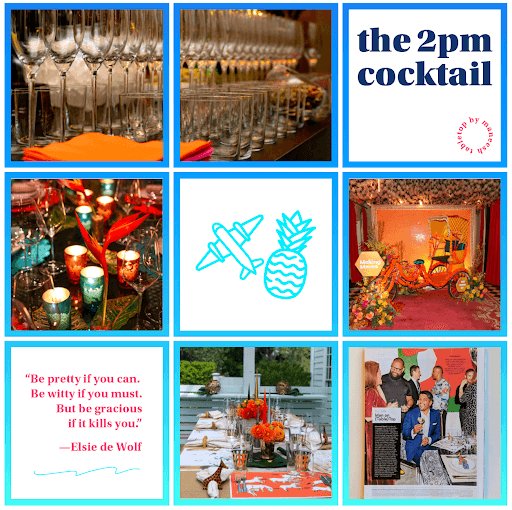 illustration design.
We built some custom illustrations to match the look and feel of the brand that can be implemented into social media channels. This is a fun way of adding some flare to your brand. Having access to illustrative elements personalizes your brand on a custom level. The personality of these is super awesome as they embody the look and feel of the logo and brand design perfectly.